The largest island in Mammarkay, Dwervothurga is the land of origin for all Wergolis races, and the home of the Dwervoth Triumvirate.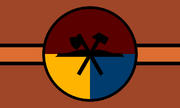 Dwervothurga has never been successfully invaded in recorded history, due to its natural and artificial fortifications, which have been built up by the ancient Wergol and Dwervoth. Dwervothurga's industries are divided roughly into its three states, Dwervoth Mul, Dwervoth Turk, and Dwervoth Urkan.
Dwervoth Mul Edit
Dotted with mines and quarries, Dwervoth Mul provides nearly all of Dwervothurga and Burtan-Barat's stone and ore, and occupies the northern half of Dwervothurga.
Mulvoth Mul Edit
The centermost shire of Dwervoth Mul, Mulvoth Mul produces over half of the iron and copper in Dwervothurga.
Mulvoth Parvot Edit
TBD
Mulvoth Shurrok Edit
TBD
Mulvoth Surtok Edit
TBD
Dwervoth Kol Edit
The capitol city-state of the Dwervoth Triumvirate, Dwervoth Kol sits in the center of Scholar's Lake, and is the largest city in all of Mammarkay, occupying nearly the entirety of the island. Dwervoth Kol is actually tiered, with two terranean tiers and four subterranean tiers, with the majority of the city's population residing in the bottom four tiers.
Dwervoth Turk Edit
Home to much of the Dwervoth Triumvirate's industry and craftsmen, Dwervoth Turk sits in the southwest of Dwervothurga.
Turkoth Kolk Edit
TBD
Turkoth Mark Edit
TBD
Turkoth Velthar Edit
TBD
Dwervoth Urkan Edit
The center of Dwervoth learning, Dwervoth Urkan holds dozens of Urkanils and libraries, and is home to scholars of all races and nations.
Urkanoth Eyfal Edit
TBD
Urkanoth Rit Edit
TBD
Urkanoth Shar Edit
TBD
Urkanoth Sok Edit
TBD
Urkanoth Vur Edit
TBD